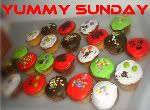 My Yummy Sunday post this week. We were blessed by friends. Wow, it's good to have many friends anywhere... My hubby chose this menu and he loves eating this. We were invited to a lunch date as a family and we enjoyed our lunch to the max. It's so yummy. Thanks to our dear friend who blessed us.
Yummy Sunday is up every week with
Perfectly Blended
. Try to view and join, you will really enjoy...